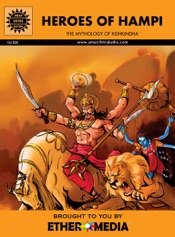 HEROES OF HAMPI
The mythology of Kishkindha

When the two warrior brothers, Hakka and Bukka, go hunting with their hounds on the banks of the river Pampa, or Tungabhadra, they do not expect the rabbit they are chasing to turn around and fight! Still less do they expect to find themselves spending the rest of the day, hearing stories about the land they are standing on. Stories about the gods and humans who inhabited it. Of the river Pampa who yearned to marry Shiva. Of  Vali, the insecure king of Kishkindha, and of Rama who was unable to give his faithful lieutenant, Hanuman, the one thing he desired.
More mysterious is the storyteller, an ascetic, who insists that the brothers are destined to become rulers of a mighty empire.